Faux Wood Beams
Faux wood beams are a good alternative to real wood. Being able to add these beams after the ceiling is finished, or maybe it was an afterthought, is a great way to spruce up your ceilings without costing you an arm and a leg.
The best beams are made of high density polyurethane. With high density polyurethane you can paint it, stain it, glaze it, or anything else you can think of. The structural stability of the poly beams is very good too. These beams are not for any structural purposes though.
I do not recommend the fake wood beams made of expanded polystyrene, or Styrofoam. These beams do not have the look of real wood and they are very brittle. They have to be painted or stained with water based finishes: oil based finishes will eat away at the beams.
Unlike real wood beams, these fake wood beams will not crack, twist, split, or shrink. The realism is outstanding in the top of the line beam manufacturers. The molds are made from real wood, and all of the original wood's characteristics are transferred to the faux beams.
---
Installing These Faux Beams
---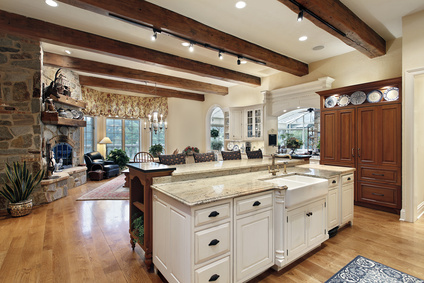 The ability of these beams to match any home style makes them a fabulous choice. The styles range from heavily distressed to highly ornamental. Faux wood beams can be made to simulate heavy wood trusses, commonly seen in timber frame houses, or to simulate a high end real wood coffered ceiling.
Don't forget you can also use these fake beams the outside of your home, these beams are rot and mildew proof.
Some faux beams even come with crown mouldings already formed into the beam itself, eliminating the extra step of having to install the moulding later.
The costs are low when compared to real wood. The ability of having a single person able to install these beams is real cost saver. Any homeowner with moderate skill can install these beams. Cutting can be done with a handsaw or power saw.
Faux wood beams are installed by adding blocking to the ceiling and nailing through the side of the beams into the blocking. Polyurethane glue should also be used to glue these beams to the ceiling, Liquid Nails is a good choice, but be sure to make sure with the manufacturer. Gluing adds extra holding power.
Faux beams also have the great benefits of being lightweight.
Being able to carry a lot of these beams in one trip is also a good money saver, but more importantly a great time saver. A single person can lift a 20 foot 6x6 inch beam. It would be hard, if not impossible, for two people to lift a 20 foot 6x6 into position if it were real wood.
Most companies offer samples for you to preview before buying. These cost a few dollars but most of the time the cost of the samples is refunded if you decide to purchase the full size beams.
I recommend that if you decide to have wood beams installed on your ceiling that you get a separate price for faux beams. I am sure you will see that there is quite a price difference and you will be happily surprised. Any good carpenter can install these beams to give you a professional look.