Metal Ceiling Tiles
Are you bored of your current ceiling? Why not try metal ceiling tiles. They are quite popular these days and their popularity continues to grow.
They are not only very attractive but also very easy to install. You can install a metal ceiling yourself which can save you lots of money, and give you the satisfaction of doing it yourself.
Metal ceilings are not a new invention because they have been sound for many years. Their popularity was at it's peak during the Victorian age in the mid to late 1800's. Metal was the alternative to the plaster ceilings of Europe; which were very complex and therefore very costly. Metal ceiling tiles were a great alternative because of it's ease of manufacture, and the ability to be mass produced further reduced the costs.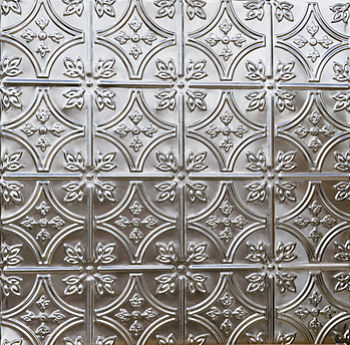 Metal ceilings are commonly painted to simulate plaster. If you decide to paint them they are faux metal panels that are better suited for this and also less expensive. The plastic type does not have to be painted but the ceiling will look like plastic and not very attractive; so painting is a must do with this type.
Architects are implementing metal ceiling tiles into everyday designs in more and more homes. The reason for this is too make the ceiling stand out and become an architectural detail, and not just "plain Jane". Ceiling details have all but been forgotten in the past, and adding details to the ceiling will further enhance the design and appeal of any ceiling.
Tin was the material of choice in the past due to it's malleable properties, but due to our technological advancements in the last century any metal can be stamped into shape. Available metals these days are copper, stainless steel, tin, and brass.
Different patinas are also available; from brand spanking new, to very old looking. Which one is right for you is a personal choice, and your tastes will ultimately win.
Colored metal tiles are also on the market. These are a great way to add color to your ceiling. You can even use these as accent pieces to create a border or to add a design to break up the ceiling and make it more interesting.
Another way to have metal ceiling tiles is to have a suspended, or drop, ceiling made of metal. By using this type you accomplish two things; you lower the ceiling, and you get a great ceiling. This is also a good way to cover up an aging ceiling that you may already have.
Having a drop metal ceiling is more involved in the construction so it may be a good idea to have it professional installed. This can be a DIY project if already have suspended ceiling experience.
As you can see metal ceiling tiles are a good alternative to the "norm" and if you want your ceiling to stand out from the rest this is a great way to do that. Just think about how many homes you have been in and how many of those had a metal ceiling; I bet it wasn't too many. Why leave the ceiling area boring when you don't have to.