Mosaic Backsplash
Glass Mosaic Tile Backsplash
A mosaic backsplash is a great way to get a different look into your kitchen, and this is a great way to accomplish this. But where do you start? How about a mosaic tile backsplash made from ceramic tiles? Or maybe a tumbled marble mosaic? The options are nearly endless.
First you need to decide on what design you want. Do you want a landscape? Or a still life portrait? Or maybe an abstract from an artist you love? If you don't want a full mosaic you can have just a border.
The next decision is what material do you decide on? This is more of a personal choice than a durability choice. A backsplash is not an area that will get lots of abuse. The most popular options are ceramic tile, glass, and tumbled marble.
Another point is most people think of mosaics to be of a small square design. This is because when glass backsplashes were new, the small tiles were often obtained from mosaic manufacturers. That was really the only place that had small square tiles of various colors in glass. So the name stuck and they all are known as mosaics that have the small square shaped tiles.
Now mosaics of the square shape come in all shapes and sizes. From to glass and everywhere in between. The picture below shows a stone mosaic with a nice decorative border.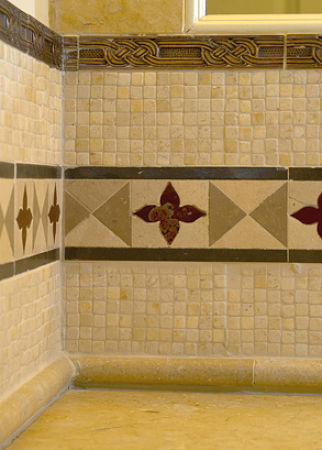 Choosing a complimentary material will keep the look cohesive. On the other hand if you go with a design that stands out from the design it will provide a focal point in the room.
Mosaic Backsplashes are made by cutting larger pieces of ceramic tiles, stone, glass, or any material for that matter into smaller pieces and fitting them together. Using different shades of colors makes the design more dimensional and artistic.
Creating a mosaic is time consuming, and depending on the complexity, it can be very expensive if bought from an artisan. A mosaic really is a work of art and a true artists touch is needed to create one of these masterpieces.
A True Mosaic Backsplash
Mosaics don't necessarily need to be made by a specialty company. Designs and patterns can be found on the Internet but a lot of skill is required to make a mosaic backsplash.
You can also find pre-made designs that come pre-assembled and attached to a mesh backing. So all you need to do is thinset the entire piece to the wall and grout it in. This is a less expensive way to go but does not give a unique design as the particular design may be quite popular.
The perfect places for a mosaic tile backsplash is over the range and kitchen sink. These areas have the required space available to accommodate the design. Some can be quite large so be sure to measure the area thoroughly to ensure it will fit into the desired area. This is especially important if you want to have a border around the mosaic as this will require even more room.
As you can see, the designs and artistry of mosaic designs are truly amazing and one in your kitchen is sure to set your kitchen off, and give it that little something extra. Mosaic, what a way to go!