Ceramic Tile Backsplash
A ceramic tile backsplash is by far the most popular way of finishing off your backsplash area. Not only because the selection is immense; but because it's easy for anyone to do themselves.
Being able to complete kitchen tile backsplash projects yourself gives you great satisfaction, as well as saving yourself some money in the process, and who doesn't like that?
Ceramic wall tiles are intended to be used only on walls. This is because the tiles are very lightweight and using these tiles on the floor is not a good idea. If they are used on the floor the tile will likely crack and not hold up well over time.
How to tell if you have wall tile:
The tile will feel very light when compared to a floor tile of the same size.
Wall tile is very easy to cut with a tile saw
These tiles are usually much less expensive. Mainly because there is less clay used to make the tile.
Ceramic tiles are made from clay that is fired under high temperature. A glaze is also fired on the surface of the tile to both decorate it, and protect it from water. Glazed tiles are the most often used type of ceramic tile.
There are also terracotta tiles out there that are not glazed but do require extra maintenance. The extra maintenance is from having to seal the tile with a sealant.
The Advantages:
Easy to install
Inexpensive
Many colors and styles available
The available selection of wall tiles is vast. You can select from a wide range of colors, sizes, designs, and finishes. Colors range from black to white and every color in between. Bright colors are very popular right now. Using more than one color in the design is also very popular.
You can even get handmade tiles. The handmade tiles have imperfections that add a lot of character to the tiles. The photo below shows handmade tiles with striking colors in a hexagonal design. If you want a one of a kind ceramic tile backsplash this is the way to go!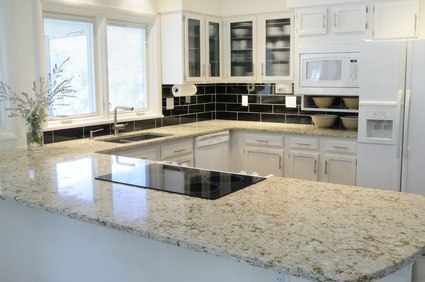 Sizes of the tiles are also wide ranging. The sizes typically seen are 2" by 4' for subway tiles, and 4" by 4" for square tiles. 6" by 6" is also an option if a larger tile is desired. But the sizes start at 1" by 1" and continue on up to 8" by 8" and larger sizes are available in specialty stores..
Designs can be made from templates, or from an idea you have. Like everything else you are only limited by your creativity and imagination. Murals of hand painted tiles are a fabulous way to incorporate the look of artistry into your kitchen backsplash design. Also consider using a mosaic backsplash made from ceramic tiles.
The most common finish is the glossy, and very smooth, glazed tile. These tiles are the easiest to keep clean. Other textures are rustic; the glaze is uneven and the color density can vary. The surface of he tile can also have a rough texture; or even be unglazed for an old world feel.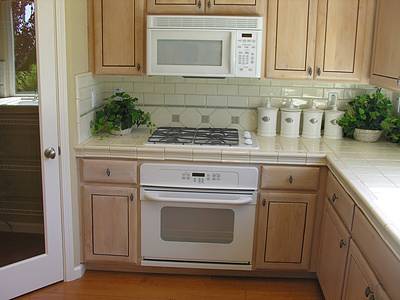 If you take a trip to your local home improvement center and browse their selection of kitchen tile backsplash materials, you will see that there is a huge selection. Deciding on which style is right for you can be very nerve racking. Why? Because when installed correctly the tile can last for a very long time.
What I recommend is to choose a style that is not too "off the wall" if you plan on selling your house in the future. A highly personal ceramic tile backsplash might not be a good selling point; should you ever decide to sell your home.
The Disadvantages:
The grout can get very dirty over time.
Some maintenance is required. Sealing of the grout at regular intervals.
The tile must be properly sealed from water; otherwise water can get behind the tile and separate it from the wall.
Installation of a ceramic tile backsplash is actually quite easy if you have the correct tools. Believe me when I say anyone can do this project. As long as the design is not too complex the average ceramic tile backsplash can be finished in a weekend, or two. Proper preparation is the key to any successful tile installation.