Coffered Ceiling
Coffered ceilings will add an amazing architectural detail. Most often seen in the Baroque and Neoclassical styles. These ceilings do not have to be square in shape they can be any shape; most of these ceilings are seen in the square shape because it's easily constructed.
The recessed areas of the ceiling is sometimes called caissons, or lacunaria, and the ceiling itself may be called a lucanar. Coffered, in English, comes from the French word coffre, meaning "box". The Baroque style (which made this ceiling popular) originated in Italy, in the 1700's, and quickly made it's way to France in the mid 1700's where it took off and is most known.
Don't feel as though you have to make your entire ceiling area into a coffered design. Take a look at the picture below and see that you can have a small coffered area over an island, a kitchen table, a breakfast nook, or whatever you choose. It can also just be in the center of the kitchen with nothing underneath it.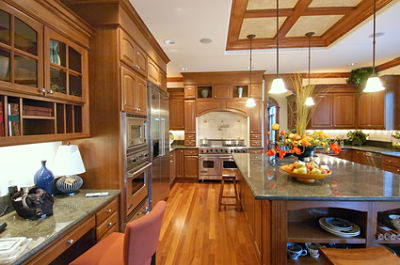 These ceilings can be simple in design to very complex. A simple design would involve only crossed beams with no embellishments to the centers of the recessed areas.
The more complex designs can have plastered beams with very ornate medallions set into the center recesses. Of course the more ornate the more costly it will be, and the need for an experienced craftsman is a must in the most complex of designs.
Coffered ceilings can be made of rough, unfinished wood that would be well placed in a rustic style kitchen. Reclaimed wood beams from old barns that have been cleaned add even more detail to the rustic kitchen. Faux wood beams can also be used, and are much easier to install.
Finished wood is good for a traditional style kitchen, such as the Craftsman Style. The finished wood gives this style kitchen a nice focal point and an are for your eye to be drawn to. Coffered ceilings are not commonly seen in today's home but it will add a very good detail.
Plaster ceilings in the coffered style are not very common at all. This is due to the complexity and costs associated with it. It may take a plaster craftsman a month to do a small kitchen, and because plaster mouldings are not readily available they have to be made by hand. The upside is there is no better way to give the look and feel of handmade artistry.
These ceilings also have the benefit of absorbing excess echoes and sound. These ceilings are most often seen in libraries and dens; but with the popularity growing it's becoming more common in all areas of the home, especially the kitchen.
Armstrong has a line of coffered suspended ceilings that are a best for those who have high ceilings already and who don't really have the skill, desire, or money to have a custom made coffered ceiling installed in their home.
I recommend these to those people who want to install their ceilings themselves. Suspended ceilings are actually very easy to install once you get started. Not to mention if you already have the grid set up you can simply replace what you have with these. Just something to consider.
If you really want a coffered ceiling there is nothing stopping you. So get out there and find what you're looking for and do it already, lol.