Designing A Tile Backsplash?
Designing a tile backsplash is not cut and dry, it all depends on what you want. The patterns are as numerous as the people who install them. There is no set way to design a backsplash. With some information you can have a one-of-a-kind design by combining more than one standard layout.
Backsplash Patterns
There are a lot of patterns when it comes to tile. Let's go over the most common patterns. Kitchen backsplash tile designs can be a combination of many different patterns.
Standard Pattern:
The first backsplash pattern we will talk about when designing a tile backsplash is the standard layout. This layout is where the horizontal and vertical lines line up in straight lines the entire length of the space. This is the easiest layout to design and also the most plain in appearance. This is the most common layout as well and goes well with a traditional kitchen.
A variation on this design is to lay out the tiles in a diagonal pattern. You simply lay out the tile on a 45 deg angle to the countertop. This very easy to accomplish but does require a lot more cutting of the tiles.
The Running Bond Pattern:
The running bond pattern most commonly associated with brick walls. This pattern has alternating rows that bisect the preceding course. In other words the first course is laid out and the second course is placed so that the rows go to the center of the first row. This alternates until the all the tiles are installed.
This backsplash pattern is most commonly seen with subway tiles. The subway tiles resemble bricks in shape so that's why it's most commonly seen with subway tiles. You can use this design with standard square tiles as well and does add another detail. Check out the picture below for a running bond pattern with accent tile and bullnose edge finish tile.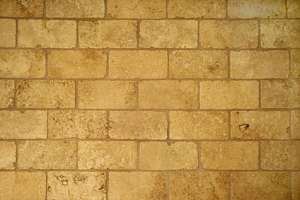 Harlequin Tile, Mosaic Tile, And Hexagonal Tile:
The next design is the harlequin pattern. This is an elongated square shape, like a four sided elongated diamond. Designing a tile backsplash in this pattern can get quite busy, but if used as a border it looks amazing.
Using a larger tile in the harlequin design can lessen the busy nature of this backsplash pattern. This not a very common pattern so if you want a more unique looking backsplash this is a great way to get one.
Yet another pattern you can utilize is the hexagonal shape. This pattern, like the harlequin, can be busy to the eye but using a larger tile will lessen this as well. This pattern also makes a great border.
How about a mosaic design? Designing a tile backsplash in a mosaic design is actually very easy. You simply need to break large tiles into smaller pieces and fit them together.
This is a time consuming process though, and the design is not for everyone. This tile backsplash design can be done in a variety of materials from stone to glass. You can even incorporate more than one material in the design to make it even more unique.
Accent Tiles:
Using Borders to separate the tile patterns is also an option. By using a pattern on the bottom row, or rows, of the tile and then using a border to separate the design is a good way to add an interesting detail.
Borders very commonly come pre-assembled and attached to a mesh backing. The mesh holds the pattern together and makes the installation of the border very simple. Some border patterns are very complex and not having the tiles attached to a mesh backing would drive you absolutely insane!
A twist on using a border in designing a tile backsplash is to have different patterns on both sides of the border. For example you could have a standard pattern on the bottom and a harlequin design on top, or any other design you can imagine.
Moldings are another detail you can incorporate into designing a tile backsplash. You can use these with a border pattern or use it by it's lonesome. The great thing I like about using moldings in a tile design is the fact that it adds not only detail by dimensions well. These moldings are thicker than the tile and therefore stand out from the face of the tile.
Moldings can be made from stone or ceramic. Try to use stone in a complimentary color to the tile, you may be surprised how well it looks. Ceramic moldings are formed in a mold and fired in a kiln, and are less expensive than stone. The ceramic style is also more uniform in it's appearance.
In Closing:
As I mentioned earlier it's very difficult to give ideas for designing a tile backsplash. Hopefully by listing some of the patterns you can begin to narrow down your design.
I also recommend that you collect as many pictures as you can from kitchens that you really like. I am talking about real pictures you can put your hands on. This way you can take the pictures to your kitchen and tape them to the wall to give you a better idea of how it will look.
It's also a good idea to buy a book or two on tile design, there are hundreds of designs in most books. The $20 to $30 spent on a design book is more than worth it in my opinion.